Blog
Our Entire Wedding Film Process
In this blog post we break down the entire process of booking us for a wedding!
Today's blog post is everything you need to know about booking us! This includes information on contracts, the filming we do on your big day, and even if Glass House Productions are the right company for you.
After booking us, we will arrange a date that suits you to have a meeting wherever you feel comfortable (your house, a local pub, a coffee shop, etc) to discuss all general enquiries and to chat about what our company can offer you on your big day.
It's important that we also ask you questions as it's vital that we make sure our company suits your preferences, and if not we will lead you in the right direction towards another company which might suit your needs better as some couples prefer a wedding video over a cinematographic film. It's a necessity that we are the right fit for our client as our video style is not for everyone. Our goal is to do the best job possible so we must meet your needs. As well as this, we will ask which photographer you've booked, your wedding venue and other questions such as how you met to make sure we create the perfect film that tells a story. We will also explain how we deliver our films, for example we don't do DVDs!
After, we will send you the contract that we read through with you at our meeting just to make sure everything is clear. The contract contains everything expected of us and the client, everything possible to protect us and the client and payment methods, etc. The contract protects everyone involved and we have always used contracts as they make the process safe and comfortable for everyone involved. We ask for a 20% deposit to secure your booking, and if you don't pay then we can't have you secured on our calendar as we don't want to have to turn other people away just for you to cancel.
The package you buy from us determines if we will see you again (after the meeting) before the wedding. Some packages such as the Short Film package and the Feature Film package you will because you will have a pre-wedding shoot.
We will also email you six weeks prior to the wedding to ask for all the information we need about your wedding to make sure things run smoothly as possible, and we do it so close to the wedding because a lot can change within a few months when it comes to wedding planning.
If you happen to change your mind about anything between the meeting and your wedding day to do with what you want filmed, just let us know and we can happily renegotiate a new contract!
Before you book us you might be wondering if we film everything from your wedding day or if we just film the certain parts of the day that you want us to. On the day we have things that need to be filmed to make the story flow. For example, during the prep we'll create shot lists and we might ask the groom to straighten his tie or put his jacket on so we can film it. On the other hand, we will not tell the bride what to do, but just film her getting her makeup done and film shots of her dress. All of this helps set the scene for your wedding film. Another example is after food and speeches we love to take the couple out to a scenic area for fifteen or twenty minutes to get beautiful cinematic shots, preferably during golden hour. This heightens the cinematographic film effect we aim for. After prep, we go to where the ceremony is being held and we get prepared early by setting up our cameras and tripods, as well as distributing our secret audio feeds everywhere and attaching a microphone to the the groom. Whilst we wait for the ceremony to start, we usually get shots of people arriving and chatting to set an atmosphere.
During the ceremony, we tend to stay with our tripods and not move to focus on getting the shot and capturing everything. After the food, we film the speeches, and then we take the bride and groom out to capture stunning shots of the newly weds together. The first dance and cake cutting is also included in our filming, and we wait for the party to start to get some footage of people dancing and having a wonderful time (because it makes great footage) before we say goodbye and leave.
We will then follow you up by sending you an email usually congratulating you and thanking you for having us. Our goal for this year is to be able to give you your film within thirty days! When we've finished editing, we will invoice you and when we receive the payment we will send you your film.
You will receive a highlight reel, but to make that film we have doc edits of everything (when we shoot there will be raw footage with no music or fancy edits as it is a documentary). You will have these doc edits of the ceremony, the speeches, the first dance and the cake cutting. Once all of these are prepared they will be put into our dropbox that has a password. You will be able to access this and download!
For our top package we offer an archive hard drive which gives all of the raw footage from the day, as there is a lot which does not make it to the highlight reel. You can receive this in a lovely handmade box made by an Isle of Wight carpenter. This is an amazing deal for people who want to see every part of their wedding day.
Of course we want our service to be the best it can be and your wedding film to suit you. Luckily all of our customers have all been over the moon with their films! However, if you didn't like certain parts of our wedding film, there are things we can change. Often we've found (from other people in the industry) that problems occur when the bride doesn't like the way she looks in a certain shot, such as it being unflattering, or maybe the music is not to your taste. These are always things that are easily changed if needs be!
Thank you for taking your time to read this blog post. Here at Glasshouse Productions we are always more than happy to help. If you have any more questions feel free to email us.
Welcome to this weeks Blog! This week we speak to Holly Cade about her experience and life as a wedding photographer!
If you prefer listening, head to our podcast over on soundCloud
Holly has always known she wanted to be a photographer, and when she attended sixth form she disliked it and decided to drop out after year. She then attended a local college and took the only photography course they had for three years whilst working at a local camera shop. Four years ago, after losing her job and then unable to find another job elsewhere, she decided to create her own job. Photography started as a passion, but after becoming unemployed it became something she had to do to earn money as she desperately needed it.
She initially wanted to do portrait and fashion photography. However, people kept asking her to do weddings which she was unsure about because at college she was always told wedding photographers were usually the ones who had failed in the industry. Then, the more she shot weddings, the more she enjoyed them than other types of photography.
Couples don't realise how much work goes into wedding photography. For each couple, the process takes about eight days. It usually begins by a client making enquiries, and then Holly enjoys to meet her clients in person to get to know them in person over coffee as she hates talking via email, and then it is usually followed by the engagement shoot. After the wedding, Holly takes around three days to go over all the images and edit them. This is very different to cinematography as videos can take around 1-4 months. Holly has two packages, there is not much difference other than the price as one package includes a photobook.
The competition for photographers on the Isle of Wight is not terribly bad as there are so many people who come to the island each year for weddings, and photographers have their own style that makes them more compatible with certain clients.
We asked Holly what's the worst thing that's ever happened to her at a wedding and she admitted that once she turned up to the church with the bride, and the vicar was fine with there being a photographer until two days before. When Holly turned up the vicar approached her and told her not to do certain things, not to move around as it will distract him, to stay at the back and not to use flash. These situations can make photographers uncomfortable.
Holly received a phone call last year from someone who was at a wedding she shot. The client told her that they were middle aged and therefore they weren't sure if they were the clients Holly were willing to shoot. Holly, like many photographers, does not care about age and is more than happy to shoot weddings as long as the clients are kind, honest, relaxed and happy for Holly to do her own thing. This particular wedding ended up being one of the best weddings she shot last year. It's all about putting yourself out there, as if you're honest about who you are, you will attract the right clients.
Holly enjoys attending wedding shows as she finds that her bubbly and friendly personality is one of her assets, which can be hard to portray online. She is also aware that wedding shows can be intimidating and pressurising, but they are a fantastic way to get to know your suppliers so she would recommend them, as you can't really know someone unless you meet them in person.
She gave us the advice that if you work in this industry, you have to remind yourself it is a job, even if you work at home and love what you do. Otherwise, it can take away the balance of having a social life and time to relax. It is easier to do this if you set yourself certain hours to work in a day, and then after these hours you should turn your computer off and spend some time doing other things you love to do.
Thank you so much for reading this weeks blog post! We really appreciate your support, see you next week.
our favourite
Photographers, Venues the Weather and Food
Welcome back to the Glass House Productions Blog, this week we discuss all things weddings in particular we go into Photographers, Venues and our personal favourite wedding meals.
If you prefer to listen rather than read please do head over to our podcast over on
*Click above*
Its pretty banging.
We have a range of favourite venues because of their unique styles.
Lakeside in Wotton is amazing for a modern, classic wedding because of how new and fresh it is. It also has fantastic view of the lake which adds to the relaxing atmosphere.

New Barn Farm has a beautiful rustic and alternative look making it very popular. What adds to New Barn Farm is it's perfect outdoor area for a nice day making it great for kids.

Albert cottage has a vintage and historic feel with very helpful staff. It's also spacious with a large dance floor, so is perfect for a bigger wedding.

The Spinnaker Tower in Portsmouth has lovely staff and is a smaller venue, but it is still beautiful and has a great pub vibe to it.

The Sea View Yacht club has a gorgeous view as it's next to the sea, and has extraordinary catering. However, it is best for smaller weddings as it can get a little cramped if there are too many people.

One of our absolute favourites however, is Eastdene in Ventnor, which is incredible. It's very child friendly as it has a huge garden, as well as having an incredible house in a obscure but accessible location with a wonderful view of the sea.
What makes a photographer one of our favourites isn't just determined on their portfolio, but also someone who we get on with really well, as we have to work together and help each other out to get the best result.
Adam Jervis was the first photographer we ever worked with, he was extremely kind and really helped us out with our first wedding. He has a similar style to us which makes a brilliant final product!

Abigail Steed has amazing work, she has given us great advice on working in the wedding industry and is great to work with.

Holly Cade is a wonderful photographer. So bubbly and friendly which makes working with her a blast!

DK Photography (AKA Dunk) Is a great character, is so easy to work with as he's been working in this industry for a long time and knows what he's doing which makes him very helpful.

Martin Wilkins is a funny guy which makes it so easy to get along with him. He's extremely helpful which always makes it a pleasure when we have the chance to work alongside him.

Tanya Duffy and her husband do some wonderful work and Tania also does amazing newborn photography. We worked with her for the first time at Albert Cottage. Her husband is the second shooter and they gave us fantastic advice about the wedding industry and are very accommodating.
Planning a wedding can be difficult, especially when you don't know when the best time of year to have your wedding is.
Weddings usually start in April, which usually is full of rain, so if you choose April as the month you want to have your big day, you're going to need to be prepared for a rainy day. If you are then you shouldn't worry as everyone will enjoy themselves regardless of the weather. Summer months such as June/July/August are brilliant if you want a warm day, however sometimes it can be too hot, as everybody's usually in formal clothing. However, some of the most beautiful weddings we have shot have been in the summer! Also another downside is that if it rains you will be disappointed, but what can you expect from a typical British summer? September is popular for this reason, as it usually is still slightly warm but the temperature is cooling. Also overcast weather is usually best for photography and videography as clouds diffuse light evenly so shots usually look better as the lighting isn't too harsh. Next year however, our busiest month is actually October. This is because the rustic Autumn look is a very fashionable style at the moment, and we'll admit it does make some good shots.
Now on to the food
feeding people is hard lets just be real, vegan to dairy free to lactose intolerant there are lots of things you need to consider,
We know the struggle as Reuben is dairy free.
Our personal favourite when it comes to wedding food is
A hog roast (great as well when followed by sandwiches and snacks in the evening)

Wedding breakfasts after the ceremony and then a BBQ (very common but really works)

Roast chicken breast with mixed vegetables
This isnt our area obviously but we know what tastes good, keep your guests happy with plenty of options!

Thank you for reading this blog post, we hope you it has given you some insight into what we thinks helps to make your wedding day the best that it can be.
How we Started Wedding Filmmaking
Hello, welcome to our first blog post!
At Glass House Productions, wedding's give us so much fulfilment and enjoyment. So, we thought we'd start blogging about them, and help you understand how we get the perfect wedding film and what you can do to help us as filmmakers.
If you prefer to listen then do head to our podcast over at - SoundCloud
*Click Above*
Our number one priority is always to make the client happy, and seeing your responses to our films is always the best part of our day when we deliver them to you.
We started in this industry with creating wedding films for free, as wedding's are such a special day that we didn't want to charge people when they didn't know what they were getting. It is also SO important to have a portfolio so people know who they're booking. That's why it took us a whole year, a lot of hard work and filming 6 weddings for free to finally get booked for the price we were asking. You need consistency, you need to improve your skills every time but still follow your style so you're recognised, and so far we have managed to accomplish this.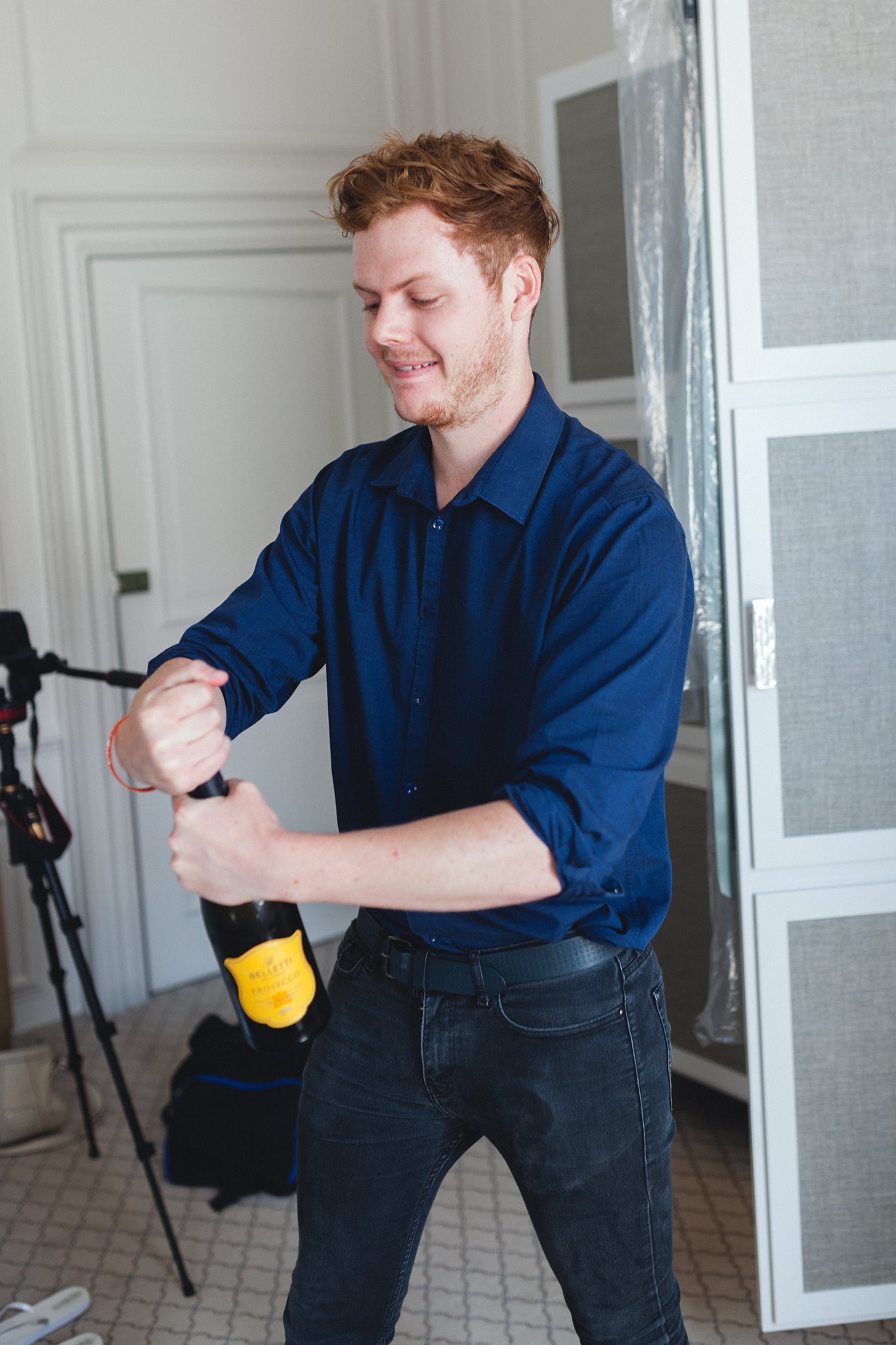 Our inspiration comes from American wedding films
they're just so beautifully made. Joe (Who is a photographer and part of our team) introduced them to us, we always thought wedding films were just plain, boring and simple videos, where a camera was put on a tripod and left there for the ceremony. We've always strived to be more creative than that. We realised that the American wedding films were so different and had a storyline, making you attached to couples you'd never ever met, this made us want to do a similar thing. We wanted to achieve this ourselves.
It's incredible that we didn't manage to mess anything up on our first video, we didn't have much idea on what we were doing, and hadn't even been wedding guests ourselves so it was a completely new experience. We somehow managed to still do well, mainly due to the help of Joe, he carried on to mentor us during the early stages of filming weddings.
This is a huge contrast to now where we know exactly what we're doing, to the point we do it without thinking or too much stress - it's natural to us, but we still continue to push ourselves to be at the top of our game.
One of our main priorities is that couples feel comfortable being able to be themselves. This brings up the topic of posing. When we first started, we used to film the couples whilst they were instructed by the photographer on how to pose. Due to the fact we were new to the industry, we didn't realise we could step in and instruct the poses ourselves, which is crucial to getting the perfect wedding film. Follow our instructions when posing, but make sure you be yourself! We wouldn't make you do something you're uncomfortable with, as by the wedding we will already know you after meeting you beforehand and we wouldn't ask you to do something you wouldn't usually do. We'll help you out, by asking you to give your wife a spin or perhaps tell her a funny joke. We love the couples to know us well even before the weddings. By your big day, you will probably know that we love to have a laugh ourselves, and if you're struggling to understand a pose we will happily demonstrate it for you, as we know from experience comfortable couples make a better film. So please... just have fun!
Hope you have enjoyed our first blog post, expect more very soon!
To see our most recent film click bellow -
To see the first wedding we ever filmed check out the second film, see one years difference for yourself!